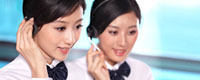 Name: Serene
E-mail: innhom@hotmail.com


Product name : VI creader 6 code scanner OBDII professional car diagnostic tool Free Online Update

Product No. : 20131012113532

Price : 35.99
Details:
1.THE CHEAPEST CODE READER:It is the cheapest car scanner,it is great value for the money. communicates with all OBDII protocols/CAN compliant

2.VERY QUICK AND EASY TO USE:I have a friend used it,after reading the manual,you can hook it up and use in within 2 minutes.

3.MAIN FUNCTION: Read dynamic datastream, Readiness status test, Search freeze frame data, Read current DTCs, Clear DTCs, O2 sensor detection test, Specified monitoring system on-board monitor test, Read pending DTCs, Read on-board systems or components control, Read vehicle information, Read permanent DTCs, DTCs search, Tested data playback

4.SPECIAL FUNCTION:This Creader VI auto ranges when in graph mode and enlarges the readout to fit rather than wipe it and start over with the new high and low values of the sensor.

5.UPDATE ONLINE:There is a video on youtube with step by step instructions on how to update the tool.You can search "Launch Creader VI update" on Youtube to get the method.Update on Launch official website.